Chiral polycyclic benzosultams from photocatalytic diastereo- and enantioselective benzylic C–H functionalization
Submitted by

Jun Zhu

on Wed, 11/09/2022 - 07:42
Authors:
Shaonan Zhang, Shicheng Dong, Xiuliang Cheng, Ziqi Ye, Lu Lin, Jun Zhu*, Lei Gong*
TOC: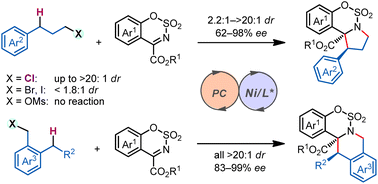 Abstract:
Asymmetric C(sp3)–H functionalization has emerged as a useful tool for simultaneous installation of functionality and chirality onto hydrocarbon units. Stereodiscrimination in reactions between a strong C(sp3)–H bond and a prochiral substrate, potentially forging vicinal stereogenic centers in a single step, however, remains a significant challenge. We report here a photocatalytic diastereo- and enantioselective C(sp3)–H functionalization/intramolecular cyclization reaction. This cascade process is enabled by a hydrogen atom transfer (HAT) photocatalyst acting with a chiral nickel catalyst, delivering biologically and synthetically important polycyclic benzosultams and fused tetrahydroisoquinolines with up to >20 : 1 dr and 99% ee. The remote chlorine substituent in the benzylic C–H substrates appears to play essential roles in reactivity and stereoselectivity. This method is economical, efficient, and easily manageable, and enables the precise construction of diverse polycyclic compounds bearing vicinal stereocenters. We expect that it will facilitate new strategies for the production of structurally diverse chiral compounds from abundant starting materials.
https://pubs.rsc.org/en/Content/ArticleLanding/2022/QO/D2QO01491B#!